22nd 2003f August, 2003
Blue Planet
Posted by Kim in
Fun
at 9:25 pm |

Permanent Link
We took Megan and Jamie to the Blue Planet Aquarium today, we
hadn't been before and I must say I was very impressed. I
expected it to be rows of endless tanks that all start to look
the same, where you struggle to find the animal that's supposed
to be inside. It has been very well thought out in it's set up
and variety. We particularly enjoyed the divers show and the
otters, very amusing. Megan's favorite was the sharks and Jamie
couldn't keep her hands out of the ray tank.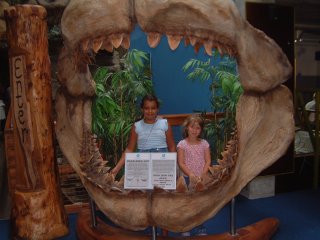 We will definitely be going again. For more info go to
Blue Planet Aquarium