9th 2003f November, 2003
Bottom 2003
Posted by Kim in
Fun
at 2:35 pm |

Permanent Link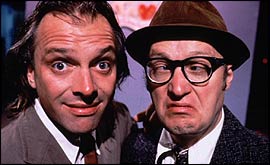 Steve and me went to see the fifth Bottom concert last night, 'Weapons
Grade Y-Fronts Tour…not normally my sense of humour I'm more of a
Billy Connolly, Lee Evans fan… but have to admit it was very funny.
Their performance was excellent as per usual.
There are two guys who are never going to grow up, but why should they
when they're having so much fun.